Using MBTI in the Workplace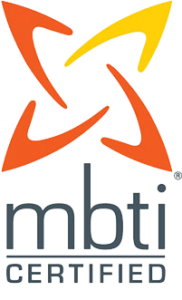 The Myers Briggs Type Indicator (MBTI) is the most widely used instrument for understanding personality differences in the business world today – differences that can be the source of much misunderstanding and miss-communication between people. It is an excellent tool to use prior to coaching either individually or in a team coaching environment.
MBTI is based on over fifty years of research and is extremely effective in enabling participants to identify their strengths. It provides a practical way of better understanding self,  motivations and potential areas for growth. Equally it will enable individuals to understand and appreciate those who differ from them. It is not a test as there is no measure of ability, it measures preferences. It is a proven personality profiling tool for building understanding in teams and organizations and enabling better performance. We were trained to administer both the MBTI I and II indicator instruments as well as a variety of specialized organizational workshops at the American Management Association (AMA) in New York.
Speaking to people who have had experience of MBTI and for that matter other psychometric tools in the past we have learned that often only a cursory introduction to the subject has been made, and so once the individual has their personality type, they don't really understand what it means or how they should use this knowledge in their work environment. We  ensure that the time and money taken to introduce MBTI into your organization is well spent, and furthermore is utilized on an ongoing basis. We do this using a 3 pronged approach – individual assessment and one-to-one briefing, team workshops and ongoing team coaching.
Our 3 pronged approach to using MBTI in Organizations 
1. Team Workshop
Once your whole team has an understanding of their own personality preferences we define the team MBTI type, its strengths and weaknesses and present a workshop tailored to your companies needs to the entire group. These range from half day workshops to weekend seminars depending on your requirements.
2. Individual Assessment and One-to-One Briefing
At Tall Trees we start by having your selected employees take the MBTI instrument, participants are then briefed privately in a two hour one-to-one professional coaching session on the significance of their personal MBTI Assessment results.
3. Follow-up through Ongoing Team Coaching
Monthly confidential online surveys followed by team coaching either face-to-face, or group teleconferences and  team driven workshops for one year.

Unlike traditional training, which often leaves the trainee on their own to implement learning's, Tall Trees follow up coaching sessions by the very nature of their delivery, allow individuals and teams to work with a focus on their defined areas of growth, supporting lasting self directed behavioral change and transformation. Coaching supports team development, resulting in more effective communication, a marked increase in team unity and increased overall productivity.
Coaching sessions are tailored to suit specific requirements and achievement of agreed goals in alignment with personal and/or organizational objectives. In short, this coaching is about permanent enhancement of performance, not about short term remedial interventions.
MBTI Team Workshop Objectives
Once your whole team has an understanding of their own personality preferences one of our professionally certified coaches will present a workshop for the whole group on the Team MBTI type tailored to your companies requirements. These range from half day workshops to weekend MBTI seminars depending on your objectives.
Develop greater awareness of self and others, highlight and celebrate type differences in interactive exercise.
Interactive exercises show how team interactions are influenced by the individual preferences and type of team members.
Discuss the strengths and weaknesses of a team which my be heavy in one personality type, the importance of integrating various types into a team environment, and how this enhances the creativity and problem solving ability of the whole team.
In our MBTI Team-building Workshops, participants learn to recognize other types, develop understanding of differing perspectives, to value that diversity, and to communicate effectively – thus developing an environment where the team can become productive, mature and flourish.
Workshop culminate with a team building exercise using a real team issue that integrates strategies for working with the whole team, with special emphasis on utilizing those with preferences which initially may seem opposite, or even non-compatible so that the team leaves with a real world example of how to use the tools they have learned in the seminar.