Under which circumstances does an individual thrive?
What does a team need to develop its full efficacy?
INNERMETRIX-Assessments provide holistic series of scientific established and validated instruments for organizational and personality assessment. They are available in many languages. You can do the test and get the profile in your mother tongue and additionally in any language you prefer, e.g. in English for a team profile.
The tests are especially useful for the following topics:
Performance Management:
Recognition and authentic usage of your own full performance potential
Leadership style and development
Improving sales performance
Clarifying your next professional steps and your own professional calling
Team Development and -Dynamics: Improving the communication and  performance  of teams
Communication: Resolution of team-conflicts and strengthening relationships within and beyond the organization
Organizational behavior and change: Connecting individual values with organizational values and truly living them
Work-Life-Integration: Find your flow-zone instead of leaking energy
Job Selection, Talent Development, Successor Planning, Change Management
The INNERMETRIX Assessments contain 3 parts, which can be booked separately or in different combinations. We will be happy to advise you, which combination is the best for your individual situation: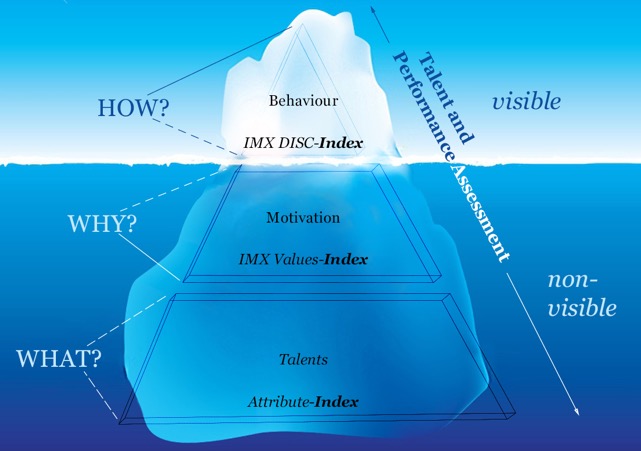 Inner-Metrix ADVanced Insights Profile – Complete Package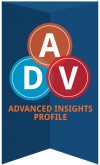 The Innermetrix ADVanced Insights Profile combines three profiles.
The Attribute Index measures how you think and make decisions.
The Values Index measures your motivational style and drivers
and the DISC Index measures your preferred behavioral style.
Together they create WHAT, WHY and HOW (i.e., What natural talents do you have, Why are you motivated to use them and How do you prefer to use them.)
This level of self-awareness and discovery are the core to achieving peak performance in any role or endeavor, to ensure that you properly align what you do best with how you do it and why.
D.I.S.C. INDEX PROFILE – The "HOW" of Human Performance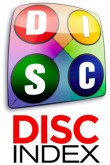 The DISC Index is the most contemporary interpretation of Dr. William Marston's groundbreaking work into understanding and measuring a person's natural behavioral style.
Understanding individual behavioral preferences and habits is crucial when working with team members, as a leader or manager of others, or in an environment that requires conflict resolution. The DISC Index can be used in a wide variety of situations, such as selection and hiring, succession planning, communication with different personality types and team development.
The DISC Index profile is unique in that it:
has high validity and reliability scores
produces zero waste by ranking all words, not just half
uses a one-of-a-kind click and drag interface for significantly greater accuracy and ease-of-use
Values Index – Motivation Factors – Finding the spark of motivation and passion in life and work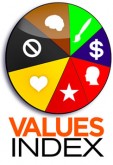 The Values Index combines the work of Dr. Spranger and Allport to create one of the most powerful motivations profile on the market today. Such information is vital when it comes to motivating employees, making hiring and selection decisions, understanding performance issues or anywhere that requires understanding what drives, motivates and inspires an individual.
Understanding WHY someone does what they do is the key to understanding how to get them well aligned with work and in an environment that will lead to the most passion.
The Values Index profile is unique in that it:
has high validity and reliability scores
examines seven separate dimensions of motivation
contains the most current instrument items for increased accuracy and reliability
ATTRIBUTE INDEX – MAKING INTANGIBLE ASSETS TANGIBLE – Talents/Strengths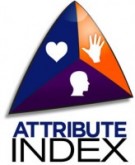 Greater Profits – In the Palm of Your Hands The Attribute Index is a revolutionary way to measure organizational skills and competencies to increase individual and team efficiency and effectiveness.
Built specifically for the business environment, and to be easy to use by any manager, the Attribute Index assesses an individual's cognitive style (i.e., how they think). The profile is based on the groundbreaking work of Dr. Robert S. Hartman (Yale/MIT) and is a uniquely powerful way of actually quantifying an individual's ability in over 80 business related areas. Over 30 validation studies make the Attribute Index one of the most powerful and reliable profiles on the market today. Used by more than 300,000 people in over 18 countries, the Attribute Index can help in finding, developing and keeping the very best talent.
The report is available tailored to different roles, e.g. managing director, manager, sales, customer service, IT etc.
Meet our INNERMETRIX Consultant:
Annette is a Systemic Business Coach and has been experiencing and using different personality assessment tools. Her decision to become additionally Certfied Innermetrix ConsultantTM founded on the unique combination of the 3 assessment parts: When your talents, motivations and behavior overlap you are in the zone of your maximum performance potential and minimum energy loss!
Annette uses INNERMETRIX for individual coaching sessions and team developments. Depending on the combination and purpose of the assessment the report contains 16-71 pages.
The programs delivered are very much tailored to individuals and teams as well as to their specific topics and questions.