Team-Building – Three Areas of Focus
In order for a business team to thrive, it must have a solid foundation, healthy integration of its members and a clear goal orientated focus.
At Tall Trees we have the tools to inspire your team to achieve their full potential.
Career Coaching develops confident employees who are aligned with corporate objectives.
Team Coaching elevates teams from forming, storming and norming, to performing effectively as a cohesive group.
Career Coaching
develops self-confidence and inter-cultural sensitivity and moves team members beyond self-imposed or unconscious limitations.
Team coaching
stamps out incivility and dysfunctional behaviors from the top down, and develops interpersonal awareness.
Insights Discovery Assessments, 360's and Training Seminars develop an awareness of different styles or preferences, and highlight how each individual can best contribute to the group (MBTI / Insights).
Professional Coaching improves decision making and problem solving skills in both individuals and teams, and teaches good communication, delegation and follow-up skills.
You can use many different assessment tools to help you in your team building endeavors. Our tool of choice is Insights Discovery as it incorporates many ever deepening levels and applications suitable for team building and development. The tool can be used as a 'one off', helping your team to dramatically understand each other better, or you can use deeper applications to follow up.
For example:
– Communication Competence
– Conflict Management
– Teams and Change
Our Process:
Interviews – Surveys – Insights Discovery Team Seminars – Coaching for High Potentials
Thorough team building exercises require that you first discover what is really going on under the surface.
Who are your high potentials?
Who brings strengths that may not currently be recognized?
What do you/your team members think is working? (no need to throw the baby out with the bathwater)
What do you/your team members think is not working and why?
1. Interviews: Initially each team member has a confidential one-to-one meeting with our head coach, to help them understand our goals, and what will be expected of them, but also to get feedback from them, about their experience in the team, their feelings, and their expectations. At this time Insights Discovery is also explained to them and any questions they may have are answered.
2. Assessment: This is followed by team members voluntarily completing an Insights Discovery Evaluator online.
Once the need analysis has been completed, we work together with you to develop a  workshop tailored to your requirements. These range from half day workshops to weekend Insights Discovery seminars depending on your objectives.
Team Building Seminar Objectives:
Develop greater awareness of self and others, highlight and celebrate type differences in interactive exercises.
Interactive exercises show how team interactions are influenced by the individual preferences and type of team members.
Discuss the strengths and weaknesses of a team that may be heavy in one personality type, the importance of integrating various types into a team environment, and how this enhances the creativity and problem-solving ability of the whole team.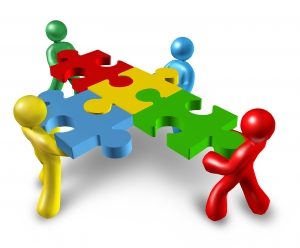 In our Team-building Workshops, participants are taught to recognize other types and work on developing an understanding of differing perspectives – to value that diversity – and to communicate effectively – thus developing an environment where the team can become productive, mature and flourish.
Workshop culminates with a team-building exercise using a real team issue that integrates strategies for working with the whole team, with special emphasis on utilizing those with preferences which initially may seem opposite, or even non-compatible so that the team leaves with a real-world example of how to use the tools they have learned in the seminar.
Follow-up through Ongoing Team Coaching
This coaching is about permanent change, not about remedial intervention. Coaching is not a band-aid, it digs deep to promote permanent performance enhancement within your organization.
Surveys and team coaching either face to face, or group teleconferences for one year.
Unlike traditional training, which often leaves the trainee on their own to implement learning's, this coaching by the very nature of its delivery supports lasting self-directed behavioral change, transformation and growth.
Tall Trees coaching sessions allow individuals and teams to work with a focus on their defined areas of growth and development. Sessions are tailored to suit specific needs and achievement of agreed targets in alignment with personal /team and/or organizational objectives.